HARD ROCK HEROES
Links
This is the links section of the Hard Rock Heroes website. Rock links and anything else that Beau Hajavitch is interested in on the web is represented here. Beau's interests are wide-ranging; from pro wrestling to old cartoons, from TV shows to general entertainment, from magazines to good old hard rock bands, it can all be found here. So check out these links, and maybe in the future, you can say that Beau Hajavitch changed your life by introducing you to these websites. Right on, far out, and solid!!
Rock Bands
Some of these bands have appeared on Hard Rock Heroes, some haven't. Some bands have broken up, splintered into new bands, or have just changed their name. All specifics noted below. Here we go:
Slaughter: The most notable band to appear on Hard Rock Heroes, on May 9, 1991, as they warmed up for Cinderella at the Winnipeg Arena. Slaughter is still going strong after the tragic death of guitarist Tim Kelly on February 5, 1998, playing to audiences of all sizes. They originated the "band hotline" idea, and still retain their original number (with a new area code, though): 323-969-1760. Fierce and determined to continue to rock and roll!
Lee Aaron: Canada's metal queen has lately been making forays into jazz. She appeared on Hard Rock Heroes on October 25, 1991, as she prepared for an appearance at the Walker Theatre. Her albums are rock solid, and "Hands On" from Body Rock is an essential pop-metal song. Those records were never released in the U.S., so if you're American, you don't know what you missed! Buy her albums NOW!
Quiet Riot: The first band to hit it big in the hair band sweepstakes in the '80s, Quiet Riot is big again now as a nostalgia band. But during the Hard Rock Heroes years, Quiet Riot was having a tough time of it. They played the Diamond Club in Winnipeg during this time and appeared on Hard Rock Heroes on June 19, 1992 to promote that gig. The band at that time consisted of Kevin Dubrow, Carlos Cavazo, and two "new guys" as this was before the original band got back together.
Helix: Helix was Canada's answer to all the fun hair metal bands of the '80s, Hard Rock Heroes' specialty. Before Helix performed at Night Moves Cabaret on June 15, 1992, lead singer Brian Vollmer was interviewed for the July 3, 1992 edition of Hard Rock Heroes. Following Vollmer's interview on the show was a minute of band footage from that Night Moves gig that, if Helix was not videotaped any more during the remainder of that cross-Canada tour going west, would be the last footage shot of guitarist Paul Hackman before his tragic death in a van accident at the end of that tour on July 5, 1992 in British Columbia, two days after the Vollmer interview and Helix footage aired on Hard Rock Heroes. The Night Moves Helix footage has now been included on Helix's "30 Years Of Helix: No Rest For The Wicked" DVD released in 2005 you can buy on their website. You can now view the entire Brian Vollmer interview/Helix Night Moves footage segment on our Video page. As well, portions of it are also contained in Part 1 of the Memorable Moments of Hard Rock Heroes, also on the video page.
Kiss Asylum: The best fan website on Kiss. Kiss is the world's greatest band and never came to Winnipeg during the Hard Rock Heroes years. (Beau Hajavitch's dream come true would have been to interview them for the show.) Everything you ever wanted to know about Kiss is on Kiss Asylum. Or, if you prefer, click here to go to Kiss' official site. Click here to go to Gene Simmons' site.
Firehouse Magazine: The longest-running and best Kiss fanzine there ever was. Firehouse started in the early '80s and Beau had been a subscriber since 1990 when he found Firehouse in a Vancouver record store and became hooked. Sadly, Firehouse is now defunct, as the internet has now killed off fanzines, and editor Ronn Roxburgh lost interest in the band as more adult responsibilities set in. Ronn has kept this website as a museum, though, with links on Kiss news taking you directly to Kiss Asylum.
Nazareth: Classic legends of rock and roll, Nazareth appeared on Hard Rock Heroes on June 18, 1993, when they arrived in Winnipeg to perform at Night Moves Cabaret. The interview Beau did was with singer Dan McCafferty and drummer Darrell Sweet, who has since tragically passed away. Nevertheless, the band soldiers on.
Honeymoon Suite: Canadian '80s purveyors of pop-metal street rock, following in the footsteps of Streetheart and Loverboy, Honeymoon Suite had a taste of U.S. success. At the time they came though Winnipeg to appear at Night Moves Cabaret in 1992, the success had started to dry up and they were now playing to backed houses in bars. Keyboardist Ray Coburn appeared on Hard Rock Heroes on March 13, 1992.
The Runaways: This is the website of The Runaways, the original '70s all-girl heavy rock band that featured Joan Jett and Lita Ford. Everything you wanted to know is here. A real treat. (Too bad this was one of the great bands rock radio in Winnipeg refuses to play, but in 2006, The Runaways are a fave of Winnipeg college radio CKUW's Saturday night "Rock And Roll Damnation" show.) Another decent site is this fan site, the Queens Of Noise Web Page.
Angel: Like The Runaways, another great hard rock band from the '70s that unfortunately never quite made it, Angel was seen as the anthesis of Kiss, since they wore white costumes that symbolized "heaven," while compared to them, Kiss could be seen as "hell." The Kiss comparisons continued with the fact both bands were signed to Casablanca Records. Beau loved them, and is forever grateful to '70s rock magazines like Circus and Creem for introducing Angel to him. Today, Angel is attempting a comeback.
Robin Black And The Intergalactic Rock Stars: At one time, it seemed Robin Black was poised to become Canada's, and indeed the world's, next big rock star. Not just hard rock's hero (or glam's), he was to become everyone's hero. Robin was the lead singer of Winnipeg's most beloved band of the 1990s, Ballroom Zombies, who appeared on Hard Rock Heroes in an interview and in band footage from The Zoo on July 2, 1993, as they were just starting out. Sadly, the Zombies became no more by the end of 1997 as the rest of the band didn't want to pursue Robin's dream of fame, fortune, and ruling the world as vigorously as he did. So as the rest of the band got a new singer and became The Harlots, Robin moved to Toronto and found a bunch of like-minded individuals and formed Robin Black And The Intergalactic Rock Stars. They became a recording act and were indeed poised to take over the world. At that time, Robin Black And The Intergalactic Rock Stars WERE your favorite band in the whole world. Robin told you so. And so did we. Americans: Remember where you heard about Robin Black first. But the band could not take their Canadian success past a certain point, and the band dissolved. Robin became an MMA fighter, and even in that world is seldom heard from today. Today, there apparently is no website devoted to Robin Black or the band. So we'll just have to use his Wikipedia page as the link for this entry. What a pity.
Kelly Fairchild: This is the online home of legendary '90s Winnipeg rock star Kelly Fairchild, as he now embarks upon a solo career. As Hard Rock Heroes was coming to an end in 1993, Kelly approached Beau in the bars to get his band at the time, Skare Lewys, on Hard Rock Heroes. So had Hard Rock Heroes stayed on the air, Skare Lewys certainly would have been on the show. As time passed, Skare Lewys broke up and in 1997, Kelly joined Dik Trickle. Dik Trickle had previously been formed by Iffy Decision and Been N. Therapy in 1995. They were very successful and even put out a CD. Dik Trickle also acted as the backup band for Winnipeg shock rock radio DJ Dick Rivers on his "hit," Bastard, which appears as a hidden track on the CD. But Dik Trickle became a thing of the past as well, and Kelly then formed BS Romeo. More lineup changes ensued, and once the smoke cleared, Kelly and the band then found themselves called Atomic Brats. But after a year or go of successful gigging, Atomic Brats broke up, too. Now, finally, Kelly Fairchild goes it alone. Hopefully he can make it as Winnipeg's future internationally known #1 rock star. His song about Pamela Anderson called "Pam Anderson" and his recently released Starland album should help on that front. On the side, Kelly also plays Joey Ramone in the Winnipeg Ramones tribute band, The Maroons, and is a member of the Kiss tribute band The Paul Stanleys, who all dress up like Paul Stanley. All of Kelly's bands have played Winnipeg's legendary The Zoo (see link below).
Aleks Paunovic: Aleks Paunovic is truly a man among men and a dude among dudes. He used to play in Winnipeg's revered Specula Black, which appeared on Hard Rock Heroes on January 29, 1993 in band footage of two complete songs shot at Georgie's and an interview with lead singer Ham Botham. (Go to the Video page to see one of those songs.) Following that band's breakup, he performed in Marc Labossiere's band, and from there started developing contacts in the movie biz, both locally and in Hollywood. He has now parlayed that into becoming a full-fledged actor, appearing in such TV-movies as the Enron scandal flick The Crooked E, the TBS original movie Christmas Rush, and the theatrical film I Spy. Can this man do no wrong? Will Aleks go from Hard Rock Heroes to an Academy Award some day? If he does, remember where you read about it first! (Check out Aleks with his long hair that he has since cut in the Specula Black picture from Georgie's on the "Photos" page of this website. He's on the left. Yes, that's him!) Aleks now has a website, although it's a fansite, although we believe the person who does the site is working with Aleks on it. You can check out the Internet Movie Database entry on Aleks here.
Beau with Brian Vollmer of Helix
Television
TV Guide (U.S.): The U.S. edition of TV Guide Magazine, which is the REAL edition. This magazine was taken away from Canadians in 1976 and replaced with the fake Canadian edition, which was an absolute horrible excuse for a magazine with photographers' rejects used as covers. (And even this doesn't exist anymore - see next entry.) Thank God we have the internet today, where we Canadians can see the cover of the U.S. edition each week, plus read some of the content like "Cheers And Jeers" on TV Guide's website. At Disney World's Pleasure Island there is a '70s-themed nightclub called 8Trax with old TV Guide covers all over the walls. Beau remembers all the ones from before 1976, anyway!
TV Guide (Canada): In spite of what's said above, the Canadian edition of TV Guide came a long way since 1976 over the years - but wait! As of November 2006, TV Guide Canada became ONLINE ONLY! No actual magazine! WHAT?!?! HUH?!?! How does Beau peruse the listings, circling shows, either at a doughnut shop or on his couch now? He doesn't. And neither do you. This sucks, but at least the listings are still there. As for the articles, they're still there, too, but don't we read enough on our computer screens? Still, this site may be fascinating to Americans looking for a Canadian perspective on their favorite shows.
Muchmusic: Canada's hip, hot, and happening music video channel. It has come a long way from the days when it was viewed as a second-rate MTV. Much is now a solid and impeccable pop culture force that has the ability to rival MTV in influence, yet, at the same time, is now kind of a different animal than MTV, especially when compared to the Canadian MTV. Here's why: Canada's biggest commercial broadcaster, CTV, was able to use their Talk TV license and flip that channel to a new second Canadian version of MTV. (We had an MTV Canada previously, briefly, but CHUM, Much's parent company, bought the parent company of that first version of MTV Canada and immediately shut them down. That was when Laguna Beach was a current show.) Why not, since a Canadian MTV is still based on the U.S. MTV, which is mostly reality shows that would fit under CTV's license? No music videos there. That formula fits perfectly, with CTV not having a license to air music videos on Talk TV, now MTV. Then a year or two later, CTV bought CHUM, Much's parent company. So CTV now owns both Muchmusic and MTV, two distinctly different channels, and they're not shutting either one of them down. And Much is still lauded for still predominantly showcasing music videos, that they say MTV doesn't do. MTV U.S., okay, but in Canada, well, if they only knew the real story. (Plus, Much's license stipulates they HAVE TO play music videos. Things are different in Canada than in the U.S.) Nevertheless, Muchmusic is a blast and it's fun, with current flagship show New.Music.Live and VJs like Phoebe Dykstra, Lauren Toyota, and Liz Trinnear. The Canadian equivalent to MTV sister station VH1 is Much sister station Muchmore (formerly Muchmoremusic). Beau tried to get a VJ job at Much three times in the '90s, but was unsuccessful. Onetime Much VJs Rachel Perry, Bradford How, and Rebecca Rankin are now familiar to U.S. viewers on VH1. And original VJs Erica Ehm, Steve Anthony, Michael Williams, and Laurie Brown still rule and can be found on You Tube!
Happy Days: Beau's favorite sitcom as a teenager. When Beau was in junior high every guy wanted to be The Fonz. (Or a sweathog.) Everything you ever want to know about Happy Days is here.
TV Land: Another cable deal that Canadians don't get. If you're American, you probably don't need to read this. Canadians: TV Land is an entire cable channel full of classic TV shows. In the past in motel rooms in Fargo, ND and Grand Forks, ND, we have seen more obscure classic TV shows on TV Land than the standard fare that Nick At Nite airs. Some fascinating stuff, like "Working Girl" with Sandra Bullock before she became a big movie star. TV Land also airs "retromercials," which are orginal commercials from the '60s and the '70s. If you get a chance when in the U.S., check it out! (Note: In Canada, YTV is the kids' channel. That function in the U.S. is handled by Nickelodeon, which at night becomes Nick At Nite, airing classic TV shows. Nick At Nite became so popular Nickelodeon spun off a new seperate channel called TV Land.)
Other Good TV Websites: Some other worthwhile sites to check out that center around TV include TV.com, Zap2it.com, and The TV Addict.
Saturday Morning Cartoons
Toon Tracker - Finder Of Lost Cartoons: Oh my God. Originally here we said, "Lots of buried treasure here. If you want to listen to cartoon theme songs, or even see some of the intros (using RealAudio or RealVideo), go here. Spectacular!" That was in reference to toontracker.com. But that page seems to have mysterously disappeared. People on message boards speculate it was due to copyright reasons. Whatever the case, we sure felt like crying when we found out Toon Tracker was down. In the pre-You Tube internet era, it was THE place to hear and see '70s cartoon theme songs. This link now goes to the Toon Tracker You Tube page, which, at the time we are writing this, we haven't had the time to explore. But it has to be better than nothing.
Ronn's Webb Page/Wingnut Productions: More great stuff, including a huge list of cartoon shows you can obtain from Ronn.
Pebbles & Bamm-Bamm: Actually, this is part of John Paul Murphy's Flintstones Tribute Page. This link will take you directly to the Pebbles & Bamm-Bamm Show, if you want to read up on Beau's favorite '70s cartoon show, as the Flintstones' offspring were teenagers in 1971. Click here to see John's title page. Beau also loved the Flintstone Comedy Hour from 1972, but we're still searching for a website that accurately covers that show.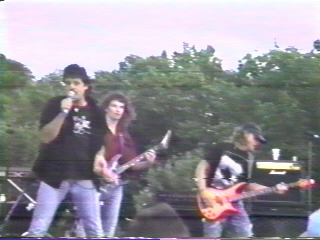 Burton Cummings performs with Tooth 'N Nail at the Burton Cummings Community Center.
Winnipeg-related
Winnipeg: A list of Winnipeg websites. You can learn everything you ever wanted to know about Winnipeg, MB by clicking onto this one website and clicking on its' links. Unfortunately, it has become a cobweb site with outdated information but some of the links are still good.
The Zoo: Winnipeg's metal haven and oldest band showcase bar is The Zoo, located in the Osborne Village Inn in the Osborne Village area of Winnipeg, which is the 2nd or 3rd most densely populated area in all of Canada. The list of bands that has played The Zoo is far too long to list here, but the place was definitely a favorite of Hard Rock Heroes. Bands like Slik Toxik, The Four Horsemen, Goddo, Jack Damage, and local faves like Shanghai Slash and Leathur Dogz were all shot here for the show. Downstairs at the Osborne Village Inn is Ozzy's, a lounge that also holds some rock and DJ shows. The Zoo is also famous for its' former Monday night wet t-shirt contests that were formerly hosted by Winnipeg local wrestling personality, former KICK FM talk show host, and current City Circus host (see Wrestling section below) Marty Gold. For many years during the Hard Rock Heroes era, the DJ at The Zoo was Shanghai Slash's lead singer James Brown, who went on to work for a while at the HMV record store at Winnipeg's St. Vital Centre shopping mall and is currently the entertainment director and sound guy at The Cavern. When visiting Winnipeg, a visit to The Zoo is mandatory for any self-respecting rock fan.
Whiskey Dix: Winnipeg's most popular meet market nightclub. Want to get laid, or just meet celebrities? Come here. The girls are hot and the beer is cold. Open until 2:00 a.m., and for you Americans, the drinking age is 18 in Manitoba. This club is in the nightclub district, and if there's no cabs around after 2, those hot girls standing around outside Whiskey Dix won't hesitate to oblige if you're cruising around the block and decide to ask them if they need a ride home.
Canad Inns Nightclubs: One huge thing Winnipeg has going for it is this huge hotel and nightclub chain that started in the early '80s that has now grown to epidemic proportions, and has now given all their hotels the blanket name (and very awkward name) of "Canad Inns." They have several huge nightclubs in the city that offer the very finest in meat market atmosphere. Hard Rock Heroes has shot footage many times in the two showbars that offer live entertainment: The Diamond Club, now called Silverado's, (Quiet Riot, Lenita Erickson, Goddo) and Night Moves, now a country (?!?!) bar called Cowboy's (Helix, Sven Gali, Honeymoon Suite). Today, those places aren't what they were, but Silverado's still tries to offer real rock bands. If you're visiting Winnipeg, you'll still be entertained, but by rock and roll cover bands at Silverado's or by country bands at Cowboy's. Today's cover bands are hired strictly for covers, unlike the cover bands that played Night Moves and The Diamond Club in the '80s who were really bands that played original music but spiced their acts up with covers in the bars to get the fans to check out their originals, a formula that worked in Winnipeg bars throughout the '70s and '80s. Lately, however, Silverado's has started offering big-name touring bands like the names above again doing one-nighters like they did during the Night Moves days. (In the years between Night Moves/Diamond Club and Cowboy's/Silverado's, both clubs became straight country bars, if you're wondering what happened to kill that great rock scene. Since then, they've had numerous formats. The name "Silverado's" lives on from those days.) These places are godsends if you're just looking for a good time, though, they have huge parking lots, and their other clubs without live entertainment include Stereo, Area, and the Tijuana Yacht Club. Area used to be Haggar's Rock Club in the late '70s/early '80s, where Lee Aaron and Helix performed, and Winnipeg's own Streetheart recorded parts of their live album, Live After Dark.
Dominion News: The era of those great '70s Winnipeg downtown Portage Avenue record stores is long gone, but venerable magazine institution Dominion News still stands, albeit in a new location across the street from those glory days. Thank God, because this is the ONLY store in Winnipeg where you can peruse the porno mags that are located in a seperate section in the back, if you're a guy like Beau who ABSOLUTELY WILL NOT buy any magazine, porno or not, that is sealed so you can't check it out first. You just pay a dollar to enter that section, refunded if you buy something - very reasonable! They have lots of rock mags, too. Beau made this a regular stop to read (and sometimes buy) rock mags on his Saturday-afternoon record-buying jaunts in the '70s and '80s.
Grand Forks Convention & Visitors Bureau: Winnipeg's unofficial southern shopping suburb is Grand Forks, ND, three hours away by car. When Winnipeggers want to buy American things they can't get in town, first stop is the Columbia Mall in Grand Forks. They can also go the new Alerus Center arena to see concerts that don't stop in Winnipeg.
Fargo: And second stop is the West Acres Mall in Fargo, ND, an additional hour south. For concerts, Winnippeggers go to the FargoDome here.
Miscellaneous
Metal Edge: This is the world's greatest rock magazine. Why are rock magazines so totally overlooked by the rest of the music industry? This is how you used to find out about great bands and great albums that rock radio won't play before the rise of the internet and the changing of the generations that has made radio finally give way to more current sounds from the old '60s and '70s stuff. Metal Edge is great because it covers both today's metal bands like Godsmack and Sevendust and what hair metal bands like Warrant and Poison are up to today, plus they have a monthly "Rockin' Roundup" question posed to today's band members, along with monthly updated lists of rock stars' e-mail addresses, band websites, band hotlines, and the most comprehensive news section (Metal Wire) in rock. A MUST for any rock or metal fan. Oh yeah, and the website is great too!
Sleaze Roxx: and Metal Sludge: The best online places to go to for news on your favorite hair-metal bands. Updated daily. These sites rock!
Pollstar: If you want to know what bands and concerts are coming to your favorite city, this is the place to go. You can search by artist, city, or venue.
Google: The best search engine, period. Try it out and we think you'll agree.
The '70s: Actually called Dee T's '70s Page. This site is a lot of fun! You can hear everything from TV show themes and Saturday morning promos (remember "It's A Funshine Saturday On ABC?") to old McDonald's commercials from those glorious 1970s on wav files or RealPlayer audio. David Thomas, the guy who did this site, just held up his tape recorder to the TV in the '70s and kept the tapes! Now he can use his tapes on today's internet. Beau did the same thing with his tape recorder back then. Now he wishes he still had his tapes. Thank you to the man upstairs for providing this site!
Female Celebrity Smoking Page: Does it turn you on to see your favorite female celebrities smoking? Think it looks sexy, or makes good girls look like bad girls? If so, this resource is for you. It's mostly just a list with quotes from magazines and the occasional link to click to see a picture or an article. Want to see if Britney Spears or Hilary Duff really smoke or not? Check it out.
Celebrities & Gossip Blogs: Some of Beau's favorite places to read about celebrities nowadays include sites and blogs like Hollywood Rag, Pop Sugar, Teen Hollywood, Perez Hilton, Page Six (New York Post), Gawker, Defamer, and Star Magazine. Lindsay, Paris, Kristin, Britney, Tara, Christina, and the entire "legs & stilettos brigade" in full glory - table-dancing, boozing, swearing, hooking up, and fighting at all the L.A., Vegas, and N.Y. hotspots. Beau can hardly wait to join in the fun next time he goes to those places. Bring it on! (By the way, the hottest club in all of these places to hang out at - maybe with those girls! - is Rain At The Palms at the Palms Hotel/Casino in Vegas.)
Beau chats with Wendy Cameron of Angel Heart during the Norma Jeans Jam Night show.
Wrestling
Beau is a huge wrestling fan, so naturally he wanted us to include some of his favorite wrestling news and rumors sites:
Live Audio Wrestling: Live Audio Wrestling is Canada's premiere satellite radio and internet wrestling radio show. Formerly a syndicated terrestrial radio show, Beau used to hear it on Winnipeg's CJOB, until that station canned it due to schedule changes (booooooo). It continued to air live on other stations in Canada on Sunday nights and archives were stored on this website. However, due to Beau's lack of time, he lost touch with the show. By the time Beau revisited their former site to check the show out, he found that apparently in the interim, Live Audio Wrestling had stopped being a terrestrial radio show and had transformed into a satellite radio show, swearing and all, on Hardcore Sports Radio, with the archives continuing on their former site. Since that time, the show has apparently now become a podcast on the site of Canada's The Fight Network. Beau will try to find time to listen to it some day. It features news, PPV results, special guests, and more. Hosted by Dan "The Mouth" Lovranski and Jason Agnew, with John Pollock at the controls, these guys rule when it comes to wrestling media. Dave Meltzer, editor of the Wrestling Observer Newsletter, wrestling's No. 1 dirtsheet, used to call in to the terrestrial version of the show at the start of the second hour. Hopefully he's still a part of this podcast. Live Audio Wrestling is THE LAW!!!
WrestlingInc: For a while there, it was hard to find good wrestling news and rumors sites. Some of the tried-and-true sites from years past have gone belly-up, and at one point most sites unfortunately had those annoying pop-up or pop-under ads that caused our own computer to give us "illegal operation - this program will be shut down" error messages. But computers and websites have progressed since then, and, thankfully, so has an interest in pro wrestling on the internet. So nowadays, this has become our favorite wrestling site. Check it out. And if you're a fan of the WWE Divas and the TNA Knockouts, head on over to Diva-Dirt to get all the dirt, on the site that covers only women's wrestling!
Marty Gold: The proprietor of Broad Range Alternative Talent, Marty wears all kinds of hats, including producing pro wrestling shows. At one time he produced Winnipeg's annual Osborne Village Street Festival wrestling show outdoors on Canada Day, and he formerly ran The Zoo's former infamous Monday night wet t-shirt contest. His main claim to fame in Winnipeg nowadays is in being both the host of his own former radio talk show, The Great Canadian Talk Show, on Winnipeg's KICK FM (and formerly on FLAVA FM), which KICK FM cancelled due to extremely mysterious circumstances that involved a former Winnipeg Free Press editor (and created a domino effect that eventually destroyed the entire station), and the current producer/host of a sort-of TV version of TGCTS called City Circus, on Shaw TV. This link is his City Circus blog, the companion to the show. Read it. And tell him Beau sent you.
Even former Muchmusic VJ Rachel Perry is a fan of Beau Hajavitch and Hard Rock Heroes!