HARD ROCK HEROES
Beau Hajavitch's Biography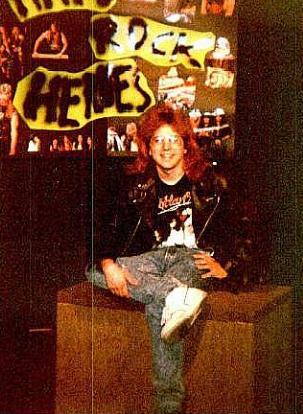 In this section of the Hard Rock Heroes website, we'll look a bit closer at the host and producer of the show, Beau Hajavitch, and see what he's all about, and how he came to do Hard Rock Heroes.
Beau Hajavitch was born on July 19, 1962 in the Misericordia Hospital in Winnipeg, Manitoba, Canada. He lived the first 7 years of his life in an apartment in Winnipeg's inner-city area known as West Broadway. As the family he had at the time had an increase in prosperity, he moved to an apartment on St. Anne's Road in the St. Vital suburb in 1969, where he spent the rest of his childhood and teenage years. In West Broadway, he had just started to attend Mulvey School; upon moving to St. Vital, Beau attended elementary school at St. George School, junior high at Lavallee School, and high school at Glenlawn Collegiate, graduating in 1980. The time spent at Lavallee School was unique because in his first year there, the brand new school had just finished being built and the school division for some reason had decided to only allow it to go up to grade 7, the grade Beau was in. Grades 8 and 9 would be added in succeeding years. Therefore, the class/grade Beau was in were the "kings of the school" for three whole years running! Can't beat that, eh? In Grade 12 at Glenlawn, Beau became the assistant editor of the school newspaper, Paw Prints News, which was an automatic student council position.
Due to circumstances beyond his control, Beau was forced to move from his St. Anne's Road apartment to an apartment on Clayton Drive, just a few buildings away, in 1982. This lasted until 1984 when, at the age of 22, Beau got his own apartment in the Osborne Village area of Winnipeg. They say Osborne Village is the second- or third-most densely populated area in all of Canada and is filled with funky shops, nightclubs, fast-food joints and other retail. Beau remains at that apartment to this day. (Beau has never in his life lived in a house.)
Beau's relationships with friends weren't typical during his school years. Beau made friends at St. George School in grade 2 with one boy who he had chemistry with who lived a few houses away from the school on Frederick Avenue. As a result, Beau made either friends or aquaintances with this boy's neighbors in all of the houses around his house. Beau could stand on Frederick Avenue today and show you, first on one side of the street, about 3-4 houses in a row where certain kids lived, then the same thing for the other side of the street. This is on Frederick between St. George Road and St. David Road. The age range of those kids varied wildly, but the bizarre thing about this group of kids was that, even though St. George School was just a few steps away, almost none of them went to the school! For some reason, most of them went to a private religious school a few streets away. When they got older, they went to private religious schools in the neighboring suburb of St. Boniface. So Beau ended up seeing two different groups of people: The kids at school every day, and a completely different group of kids on Frederick Avenue at night. There used to be some massive comic book trading sessions and "kick the can" games during this period.
This situation became more exacerbated by the mid-to-late-70s. By then, Beau's original friend had drifted off, as friends do, not interested in being Beau's friend any longer. After all, by this time Beau was attending Lavallee School, and his friend had started attending a different school, Norberry School, due to school division boundaries. Slowly, Beau's "best friends" shifted to being one or two boys who lived right next door on Frederick Avenue. This was a family that had three boys as brothers, one younger sister, and one older sister who had already moved out. The youngest brother was Beau's age; the two older brothers were two years and four years older, respectively. Constant joking comparisons to The Partridge Family, The Brady Bunch, and Happy Days ensued. And none of these kids, as pointed out above, ever went to the same schools as Beau did. set up and kicked off Beau's teen years with a bang. Beau was with these guys and their friends from their schools nearly all the time on weekends, days off, and in the summer. Beau discovered the world of rock and roll with these guys. Beau discovered the world of hanging out downtown at record stores and arcades with these guys. And anything else you know is eventually discovered by teenagers was discovered by Beau through these guys as well. And with someone's older brothers in the mix, nothing is too hard to get.
Partying at night? That was the one exception. That was not really discovered by Beau until the early 80s, except for the occasional concert. It's kind of hard to do anything at night when your curfew is 7:30 p.m. (or 9:00 p.m. in the summer.) Do you think these are acceptable curfews for someone in high school? It's kind of hard to see Kiss in makeup at the Winnipeg Arena in either 1976 or 1977 when the opening act takes the stage at 8:00 p.m. and you have to be home by 7:30 p.m. (That's why the first time Beau saw Kiss was in 1985 on the Animalize tour, without makeup, at the age of 23.) Nevertheless, Beau's "supervisor" at home finally relented the curfew just for concerts, and Beau proceded to see his first concerts in 1978 and 1979. Beau's first concert was Alice Cooper at the Winnipeg Arena on Sunday, April 30, 1978, followed quickly by Aerosmith (with opener AC/DC) that same year, and Cheap Trick and Supertramp (that's two different shows) at the Winnipeg Convention Centre in 1979 while Winnipeg Arena was undergoing renovations. Beau's first attendence at AWA pro wrestling cards at these same venues was during this time, as well. Beau's first wrestling card was on his birthday, July 19, 1979, and one of Beau's favorites, Jesse Ventura, now the Governor of Minnesota, wrestled Precious Paul Ellering (before he managed The Road Warriors) on that card.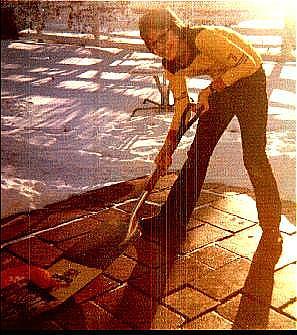 Beau shovelling records on the brothers' patio, 1976
Life as a teen in the 70s was great. The music, the TV shows, the wrestlers. These brothers that were Beau's friends had a great stereo with huge speakers that blasted their entire basement away. Air guitar battles between Beau and these guys happened all the time. Their parents were frequently away, allowing heavy metal to reign supreme! Bands that received frequent play in this basement included Aerosmith, Ted Nugent, AC/DC, Max Webster, Heart, Cheap Trick, Foghat, Van Halen, Styx, Supertramp, Rod Stewart, Alice Cooper, Led Zeppelin, Peter Frampton, ELO, and, as a gag, "Elvis' Greatest Hits" and K-tel compilations of all those 70s AM radio novelty songs like "Seasons In The Sun" and "Beautiful Sunday." (They considered them novelty songs, anyway.) Also, when Beau could sneak them on, were Kiss, Angel, Starz, and The Runaways. (Beau had started reading rock magazines.) The brothers didn't like Kiss too much, claiming they weren't playing their guitars properly. When Beau asked them what they meant, instead of answering the question, they just got more angry. It took 20 years of waiting to get the answers to that question when Beau would read Guitar World on the newsstand in 1998, where they would discuss in detail using technical terms what Kiss and Ace Frehley were doing with their guitars in the 70s and why that caused more traditional rock fans to dislike them. (Don't ask for reprints of those explanations here; those technical terms are TOO technical.) Kiss was and still is Beau's favorite band; Beau believes Kiss' "Destroyer" is the greatest album of all-time; so this fundamental disagreement on Kiss was always a source of underlying tension between Beau and the brothers. Riding bicycles to 7-11 to buy a new invention that had started called "Slurpees" was a favorite pastime, as well as watching TV shows like Happy Days, Welcome Back Kotter, The Gong Show, The Trouble With Tracy, AWA Wrestling, Monty Python, The Flintstone Comedy Hour, cartoon versions of TV shows like The Brady Kids and The New Adventures Of Gilligan, and reruns that were shown after school of The Odd Couple, The Brady Bunch, The Partridge Family, Gilligan's Island, Bewitched, I Dream Of Jeannie, and Get Smart. Their favorite wrestlers were all the bad guys: Bobby Heenan and his "Heenan Family" consisting of Nick Bockwinkel, Black Jack Lanza and Bobby Duncum, as well as Jesse Ventura, Adrian Adonis, Angelo Mosca, Sheik Adnan El Kaissey, and Lord Alfred Hayes. Beau and the brothers took all of the characters from all of these various sources (along with their own) and made their own comedy tapes from them using an ordinary cassette recorder. It was fun for them to play back these tapes driving around in their parents' car.
During this time, Beau had begun to get an idea in his head concerning his future that proved to be false. Looking on the surface at the lifestyles of the two older brothers at the end of the 70s, Beau mistakenly began to get the idea that all you do after high school ends is get a job and your worries are over; you can drink beer and party every night without a care in the world because 1) unlike high school, there's no homework when you come home from work every day, and 2) unlike high school, your job is giving you a paycheque. College seemed a foreign entity to Beau; everyone around him seemed to either not be going, choosing to enter the working world instead, or, in the case of Beau's fellow high-school students in his classes, were so vastly intellectually superior to Beau (we're talking the 300 classes here) that they were able to pursue ambitious plans to study ciriculum at the two Manitoba universities that today in the double-00s would probably find them as the C.E.O.'s of some huge scientific consortiums somewhere, spearheading the development of the preservation of the rainforests in South America. Or at least as our next political leaders. And for things Beau was slightly interested in, there seemed to be always something in the way: Journalism courses weren't offered in Winnipeg; Creative media-type courses seemed to be foreboding in their descriptions, scaring Beau away (Beau thought, "These courses are so serious - they're for grown-ups! - I'm just me!"); and besides, after doing homework all night, every night, during grade 12, Beau had gotten burned out on schoolwork anyway.
So Beau tried a course at Red River Community College in Winnipeg on Graphics. Beau had enjoyed Graphics in his three years in high school and thought by taking this one little course on it in college that he would then have what it takes to get some job in graphics somewhere so that Beau could concentrate on what he really wanted to do: Buy records and magazines, listen to music, watch TV, constantly read up on the music and TV industries, and drink and party every night. But that idea didn't work.
Some other changes had begun to happen in Beau's life by this point. While still in grade 12, Beau began to work at a McDonald's restaurant. He got the job through one of the few schoolmates he had much in common with and who he could really get along with in high school. This schoolmate worked at this McDonald's and always talked about the great times he had with the staff there. Beau had already worked the summer between grades 11 and 12 as a telephone solicitor at a company that had ceased to exist, and knew he'd be looking for another job the next summer. So Beau decided to get a head start on the summer and began working at the St. Anne's Road McDonald's in February 1980. And that's when it all blew open in the life of Beau Hajavitch.
McDonald's was like another high school, except with much more of an emphasis on loud rock and roll partying. The "crew room," the staff break room, looked and sounded like a rec room you'd throw Saturday night parties in. There were pinball machines, video games like Asteroids and Pacman, a phone, a stereo blaring loud rock and roll, and rock posters on the walls. It was like a secret meeting place for people to come and figure out who was going to go in who's car to what party that night. On Friday nights you could barely cram any more bodies into the room, it was so jam packed. On Happy Days they had Arnold's; in these kids' secret world it was the crew room, behind the counter, around the corner in the back and downstairs, completely oblivious to McDonald's customers upstairs ordering dinner. And if anyone in this circle of friends, heaven forbid, didn't work at McDonald's, the poor soul would have to sit at a table in the resturant and just wait for his friends; after all, the crew room was for staff only. (In later years, new management would deem the crew room was only for staff members actually working and that they could only be in there half an hour before and after your shift. Beau thanks God this wasn't the case from 1980 to around 1982 or so.) From there, it seemed like every night, or for sure every weekend, was a new adventure in this new world Beau had started to inhabit through McDonald's of sex, drugs, and rock and roll. This was just typical stuff for teenagers in high school; but except for those first few months, Beau wasn't a kid in high school. Beau graduated high school in June 1980 and turned 18 in July. But for Beau, this opened up a seemed-extention of his high-school years. In many ways, the period in Beau's life from 1980 to 1983 was just as much the "high-school years" as the period from 1977 to 1980 was. Beau wasn't alone in this either; for various reasons, his new friend from high school was in this same situation, as well as one or two others. So for Beau, this period felt very strange. He felt like the high school kid who just didn't go to high school. He still wore jeans and rock & roll t-shirts; it still felt natural to do so. He was hanging out with high-school kids, including some of the most beautiful girls he had ever seen (for some strange reason, 90% of the kids working at this McDonald's lived in the neighboring suburbs of Windsor Park and Southdale, not in St. Vital, so there wasn't much Glenlawn crossover). Kids that seemed to be much more normal than all the brainy classmates Beau went to school with at Glenlawn. You know the stereotypes of teenagers? You've seen every teen movie from Fast Times At Ridgemont High to American Pie, right? These were finally the types of typical teens in his life he had mostly just seen in movies and on TV and read about. Maybe there was something in the drinking water in St. Vital that prevented the existence of these kinds of teenagers. He had bought his first car in 1982, so he was giving rides home to these people, who couldn't stay up late during the week. He just didn't get up in the morning to go to school. And it felt bizarre for him to look at the grade 1 to 12 scenerio and to see no place for him. And to see that life goes on in high school without him. High school was finished, but it didn't feel like it was finished. It's kind of like after a night at a Motley Crue concert, eating Mcdonald's food, and watching Seinfeld, someone sticks a map of the United States in your face and says, "Point to the state you live in." ("Uhhh.......North Dakota? Well, it's the closest.....")
But wait a sec. Before we go on we must go and close off some loose ends here. You're probably asking now, "So what about this Graphics course Beau had started taking? And what about those brothers on Frederick Avenue he was hanging out with?"
Beau only worked weekends at McDonald's during the time he took the Graphics course. (Wisely, he didn't quit.) But as it turns out, after only a month and a half, Beau quit the course. He was failing miserably at it.
Beau didn't realize it was the creative end of Graphics that gave him decent marks in high school, where he made funny signs and funny t-shirts and funny reataurant menus. The actual job was never that great. Well, in college there's no creative end of it at all; it's ALL the job. And if you're not good enough to do the job, that's it. They're training you for serious employment there; there's no room for funny business. You know the blank lines on a cheque you write on? Well, those lines are drawn by hand! By a steady hand that can do it without any ink blotches whatsoever. Same for the lines on calendars, etc. Beau didn't have the ability to do that. (Remember, this is 1980 we're talking about here; Nowadays all this is probably done on computers.) Silk screening? Beau could kind of do that in high school. But those are very simple silk screens compared to what you're expected to perform in college. And you're not given time to do 352 silk screens over and over again to burn it in your psyche and to "get it right." Besides, Beau wasn't interested in just doing a job; this just wasn't the same as his Graphics classes in high school, which were kind of fun. He wasn't really here with people his own age; there were people from all walks of life here, and even calling them by their first names instead of "Mr." this or "Mrs." that, like the teachers in high school (i.e. grown-ups) seemed weird. Beau was falling asleep in class, too. It's a lot different when you're used to waking up at 8:00 a.m. and walking to a school half an hour away in your neighborhood for 9:00 a.m. to suddenly now have to get up at 6:00 a.m. and transfer buses to get to a college across the city to be there at 8:00 a.m. This wasn't Beau's environment. This wasn't even the highbrow 300 Glenlawn classes with all those brainy students Beau's age. McDonald's was Beau's environment. So Beau quit the course in the middle of October 1980 and resumed working somewhere between part-time and full-time at McDonald's again, as he had done in the summer.
During this entire period of the very-early-80s, change was happening in big ways in Beau's life. His "supervisor" at home began to slowly ease up on that stupid 7:30 p.m. curfew, and once Beau turned 18 in July 1980, that curfew was pretty much forgotten about. Beau began hanging out with the brothers less and less, preferring his new McDonald's friends. The older brothers had begun to move out of the house, and that great basement, anyway. Times were changing. Beau started to tolerate their "macho redneck caveman" attitudes less and less and arguments more frequently occurred. The older these guys got, the more they developed too much pride for their own good. Due to their pro-union stance, they hated Beau taking a job at McDonald's and earning wages not too much higher than minimum wage. They felt they were getting too old for Aerosmith and Ted Nugent and starting listening to Split Enz, The Police, and J.J. Cale. Their moustaches grew larger. They hated Beau bringing records to their new apartments by new 80s metal bands like Motley Crue and Judas Priest. Beau raved about the new band Bon Jovi and their "Runaway" video he had seen on Friday Night Videos and how he wanted to dress and wear his hair just like Jon Bon Jovi. The brothers were horrified. The new metal and the 80s hair bands were starting to have a profound impact on Beau. And with the McDonald's crew room and the party-of-the-week, plus the new phenomenon of stereo rock radio in the car (there were no cars in Beau's family life until he bought his first one and learned how to drive it in 1982 at the age of 19), there were plenty of opportunities in Beau's life to hear these bands. Plus with Beau's favorite 70s band, Kiss, dropping their makeup in 1983, Beau was overjoyed that he could take his favorite part of the 70s with him into the 80s as Kiss became one of the 80s hair bands. After one last blow-up with one of the brothers on the phone probably somewhere around 1983 or 1984, Beau thought, "I don't need this anymore," and severed all ties with them. All the other kids on Frederick Avenue had long since drifted off; the street was now officially dead in Beau's life, a remnant of the past.
Beau's first shopping trip to Minneapolis, 1986
McDonald's was such a religion that over the years, several crew members quit and ended up coming back. Beau ended up being one of these people, too. A clash with a new head manager in the spring of 1981 caused Beau to leave. But by September, he was back. During the summer Beau had stints at another McDonald's, a 7-11 store, and A & A Records. After Beau returned to McDonald's in September, he began training in early 1983 to become a Swing Manager. A Swing Manager is kind of both a crew person and a manager. You're not a salaried manager; you're still on the crew payroll and technically still a crew person. But you wear a manager's uniform of shirt and tie and do a manager's job. You work a manager's shift, but you never run your own shift unless the head office holds a manager's meeting in the afternoon that all salaried managers are required to attend, and there's a few things you're not allowed to do that only salaried managers can. It's meant as a stepping stone to being a regular salaried manager. But again, Beau didn't realize it at the time.
This store had a unique arrangement in that it had a full-time "Breakfast manager" working early in the morning Monday to Friday. In the summer of 1983 she went on maternity leave and Beau filled in. In September 1983 Beau officially became a Swing Manager.
Time continued to march on. A lot of the people Beau had worked with had left, moving on with their lives. The younger ones were still there, now the more senior crew people. Beau still saw his closest McDonald's friends as friends even though they didn't work there anymore as Beau was now the only one still there of that particular 1980 group. But the parties still continued. You know how in later years on Happy Days how Fonzie drifted from hanging out with Ritchie, Potsie, and Ralph to hanging out more with the "next generation" of Joanie, Chachi, and Jenny Picalo? Well, by 1982 and 1983, a lot of younger brothers and sisters of that original group were now working at McDonald's. Beau felt like The Fonz, now working with his friends' brothers and sisters. And through these various connections, the parties continued for a while, the old generation of McDonald's people now partying with the new generation. It felt weird, but at least it was still going. It really was like watching Happy Days in those last few years; taking something that was super and just clicked in its' time and attempting to extend it. Trying to take these unrelated people and figure out a way to mix them into the same show together. And like Happy Days, it did work to an extent. But its' days were numbered. And Beau made another bad decision about his future in the spring/summer of 1983.
Beau thought by the summer of 1983 that his Swing Manager position might be helping prepare him for something bigger and better in the outside world. Certainly filling out those cumbersome McDonald's cash sheets each night was something Beau had gotten used to, and had also gotten pretty good at. The whole job of helping manage a McDonald's floor had become easier, too. This was a job unlike one Beau had ever had before. It wasn't a job, per se, where you come to work and do specific tasks each day; it was one of using your head each minute to figure out where you should be and what you should be doing. And it was all under the umbrella of "managing."
But Beau eventually realized that if he stayed at McDonald's as a Swing Manager, his days would be numbered. A Swing Manager position is just a stepping stone to being a salaried manager, and those guys get transferred from store to store constantly. Beau wasn't into it that much. He wasn't interested in working at some other store. He only was interested in his own St. Anne's Road store, which contained his own personal history and legacy. He couldn't care less about managing new people he had just met at some other store in some other neighborhood he had never lived in. And the hours were a lot longer for salaried managers, too.
So Beau decided to return to Red River Community College in the fall of 1983 to take Business Administration.
Beau's original plan was to quit McDonald's right before school started. But as the things written above started to get to him, and as the warm summer months with all their hedonistic allure started to arrive, Beau again felt the itch to have lots of fun and decided to scratch it. He quickly quit McDonald's for the final time in May 1983, writing a note to the boss that he "wasn't a manager," he was just a guy who wanted to party and have fun with all his friends and favorite rock bands. Just for something to do and so that his money wouldn't run out that quickly, he took a part-time job for the summer at a Chicken Delight chicken and pizza delivery outlet, also on St. Anne's Road, as a delivery driver 2-4 nights a week.
But September eventually came, and Beau headed off to school.
Beau with Muchmusic VJ Erica Ehm on Toronto's John St. beside the Much building, 1991
At least this time Beau was enrolled at Red River he had a car. Unlike 1980, no having to wake up at 6:00 a.m. to get the bus which meant this time, no falling asleep in class. But unfortunately, a lot of the other feelings from Red River in 1980 were coming back to Beau. Again, although this time Beau's classmates were a little closer to Beau's age than in 1980, something didn't seem to feel right. Age isn't everything; these people just didn't seem to have anything in common with Beau. These people seemed to be more goal-oriented people. No denim-and-leather Judas Priest or Motley Crue fans here. No one here who's idea of fun is to flirt with danger by drinking in a van parked out in the bush somewhere with your friends, some of which are 3-5 years younger than you, who may still go to high school, and, in the case of the girls, may be wearing heavy makeup and lipstick with wild hair, jeans and high heels, and be the most vocal in wanting to hear Motley Crue and Van Halen.
Two things tied for being "the last straw" for Beau. Beau was still burned out from doing homework in grade 12. He had found the workload in grade 12 to be way, way heavier than in grades 10 and 11, and consequently had spent every night (until he started at McDonald's) studying at the kitchen table all night. Three years later, a teacher in Business Administration at Red River uttered those words Beau will remember for the rest of his life: "You're going to eat, sleep, and read this course every minute of your life." Beau was too burned out and lazy for that. Instructors were suggesting students go to each other's homes to form groups for various projects. Beau was too shy and out of his element to even consider that. Who were these people, anyway? As a Swing Manager at McDonald's in early 1983, wearing a shirt and a tie with short hair, this whole business course thing seemed like an ambitious and worthwhile idea. But by the fall, as Beau had started to grow his hair long for the first time in his life, and started getting more into the heavy metal hairband times of the day, by the time he was actually in the course he perhaps realized that this really wasn't him, that this was just a side of him that perhaps had fizzled out once he left McDonald's. Either that or he had been a good actor at McDonald's, just playing a part very well.
So Beau quit the Business Administration course after only three weeks at Red River.
Read the rest of Beau Hajavitch's biography
by clicking this link.
Part 2